What Are Corrugated Galvanized Iron Sheet Uses?
Corrugated galvanized iron sheet (CGI sheet) is one of the most commonly used steel panels nowadays due to its excellent durability, easy maintenance, and affordable price. It is generally made of thin plain galvanized steel sheet, stiffened by corrugations. These corrugations, such as waves or folds, not only increase the strength and stability of sheet material but also expand the load-bearing capacity without deformation. Therefore, this sort of steel product is sincerely trusted by many professionals and homeowners for many different applications.
1. Roofing Purpose
Corrugated galvanized sheets
are widely used in construction uses. It has gradually replaced the old concrete, shingle, and bamboo mat roofing slabs, working as roofing, flooring, wall cladding, siding, ceiling, and partitioning material while still keeping a traditional look. Also, the incidences of water seepage to the house are greatly reduced. In this regard, numerous corrugated galvanized iron sheets are consumed annually to fulfill this aim. 
2. Base Material
CGI steel sheet is an important material used to manufacture different sandwich panels.
3. Safety Fencing
The corrugated GI panel can be used as a baffle for isolation and protection. These projects include stables, livestock storage, warehouses, plants, and more.
4. Other Uses
It can be used as decorative screens, interior and exterior wall decoration, indicators, advertising boards, and so on.
Why Is Galvanized Sheet So Popular?
These galvanized profile roofing sheets are incredibly popular for a number of reasons.
1. Great Corrosion Resistance
The CGI sheet is fully galvanized to become more resistant to corrosion and rust. Zinc weathers at a very slow rate, so the coating generally has a long life, thus prolonging the lifespan of the base metal. Besides acting as galvanized protector, the zinc layer also has other functions:
- Less maintenance. CGI sheets are virtually maintenance-free.
- Easy inspection. Galvanized coating can be assessed readily by eye, and simple non-destructive thickness testing methods can be used.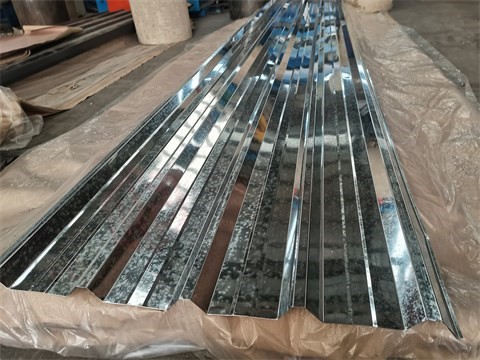 2. Light Weight & Easily Transported
With the common thickness of 0.2-4mm, you can imagine that a
galvanized iron sheet
is very light in weight and easy for transportation, unloading, and handling.
3. Easy to Install & Use
The installation of corrugated GI sheets is fast and simple, without structural support and complicated tools. And each sheet can be cut randomly to suit your specific requirements.
4. Great Durability
The indoor service life of a corrugated galvanized iron sheet is more than 30 years. When used in outdoor environment, it can last more than 20 years.
5. High Toughness
Galvanized corrugated sheet is cold-rolled to create the desired corrugated shape, which will increase the bending strength of steel in the direction perpendicular to the corrugations. Therefore, it is high in strength to withstand extreme weather, impact, and other external forces.
6. Cost-effective 
It can be embodied in four aspects:
- Various sizes and designs. They are generally 0.2-4mm in thickness and 750-1,250mm in width, available in different designs like wave, trapezoid, tile, and curve. What's more, it also has PPGI corrugated sheets to provide more colors to meet aesthetic requirements.
- Low cost. These sheets are much more affordable and require no extra cost in installing, saving you both the time and money in labor costs.
- Nontoxic and harmless. The
galvanized
 coil
is a real green material on the market, with no smell and harmful substances. Once finished installation, it can be put into use.
- Renewable. It generates no excessive construction waste in the production and installation process. Moreover, if demolished, there is a second chance of utilization, achieving the true purpose of environmental protection. In the future, the corrugated galvanize iron sheet will have a broad market.
Signatur
Wanzhi Steel was founded in 2004 and it is one of the subsidiaries of Wanzhi Group. With 20 years of experience, we continuously develop our products and services in order to offer our customers one-stop solutions. We have more than 90 kinds of metal products for sale, from raw materials, semi-finished products to finished products. Color coated steel is one of our hot-selling products, including PPGI coils & sheets,
PPGL coils & sheets
, corrugated roofing sheets, whiteboard, etc. More than that, we also offer custom coatings, colors, patterns, and designs.